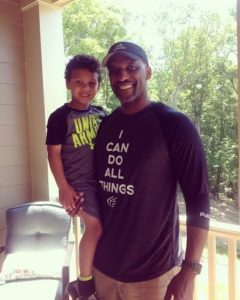 My name is Charles "Chuck" Mack and I am the owner of Your Life To Win, LLC. I am married to my wife, Jennifer, and I have 3 tremendous children: Breana, Charles Austin and Charles Adrian.
I am a retired member of the United States Air Force with over 23 years of successful service to my country. I have a Bachelors Degree in Computer Information Science and a Masters Degree in Management. I have traveled to many places and met many people throughout that time which has given me a great perspective of the world.
During those 23 years I gained valuable experience as I coached, mentored and led hundreds of young men and women. I worked with 19 year old cadets in College and on their way to the Air Force to seasoned Air Force veterans looking to enhance their careers. Working with such a wide range of ages taught me how each individual stands on their own and will need a personalized plan to reach their goals. I guided them as they pursued fitness goals, career goals, relationship goals and life goals in general. It was a privilege to watch them reach their personal and professional goals.
I also have several years of coaching youth sports which taught me skills that apply to adults as well. The ability to analyze each young athlete and adjust my coaching technique so they could see themselves becoming better athletes parallels what I do in adjusting my coaching technique to enable you to see there is a better plan for your life.
My own life experience showed me God's tremendous love for me and His plan for my life as he transformed me from a broken man into one who knows his purpose in life. Along that journey, I had pastors and good friends who helped me see the true path God wanted to take my life and the things I needed to change in my life to get there. I know personally how being able to see God's plan for your life and having someone to walk alongside you as you change can dramatically affect your life in a positive way. I didn't realize it at the time but they were actually my life coaches.
As a Life Coach I use my years of military experience, life experience and coaching skills to help you get more out of your life. Being a Christian Life Coach is not a job for me but a calling to utilize the gifts I've been blessed with to help others.
My goal is to have you realize you are made for more, take action to become and achieve more, and move down the path to the blessed life God has for you.
God Bless!